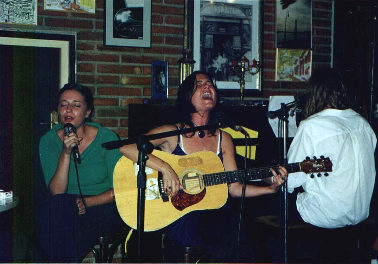 what will be...
where
when
and...
Ciutat Vella
Saturday 20 May
Jo's birthday and first clam rock gig
No Sweat
Friday 26 May
a real gig with a real PA. should be good.
Ciutat Vella
Saturday 27 May
Snot battered clam aka clamnation assault (funk - see about clam)
Frida
Sunday 28 May
superb salads and totally beautiful bar & owners. will be relaxed.
Frida
Wednesday 31 May
Nick's birthday - concert by mystery classical guitarist
Ribborn
Thursday 1 June
Snot Battered Clam! by this gig we'll be launching our propellorheads repertoire
not sure
soon
a capella folk/gospel/blues gigs with Loti Lewis - hopefully.
all gigs start at 11-ish, except Ciutat Vella (12-ish-ish)

what was...
where
when
and...
Ribborn
Thursday 11 May
strange but truthful. love the bar, very nice wood.
Frida
Thursday 27 april
what a bar! mistakenly thought we drank the profits

Saturday 22April

lovely. battle of evermore is christened

No Sweat
Saturday 15 April

a real gig with a real PA. should be good...

and it was....great sax and harp from ring-ins. buckets of new stuff.

Ciutat Vella
Saturday 8 April
Lots of danes playing children's songs. nick plays viola. rachel plays sax.
Les Artistes
Thursday 6 April
Fun, but never again. Marcel's ultra-sensitive guitar solos received mixedly.
Ciutat Vella
Saturday 1 April
First funk gig - unbelievable
No Sweat
Friday 17 March
Paddy's day! free guiness beanies and enthusiastic bar staff...crowd all wearing black and probably advertising.
where
exactly is it
Ciutat Vella

C/ San Rafael 11

from the ramblas, left into c/ l'hospital, left into c/ d'en robador, first street on your right

Les Artistes
Who cares?
No Sweat

c/ Vic 5

go up gran de gracia, left into travesera de gracia, first street on your left

Ribborn

c/ Sant Joan 5.

last street off passeig del born on the right before c/ comerc (the market)

Frida

c/ de la Merce 26

From the bottom (seaward end) of the Ramblas, turn right (1st) onto c/ Ample, go to Plaza de la Merce, cross it and you're almost there
... and with the new velvet-lined supercharged clampack we're finally out there booking some gigs